I can cut anything from 24 inch wide countertops, beams, timbers and even 1/8 inch veneer!
Powered by a Kohler 25 horse power two cylinder gasoline engine
Log Capacity
36″ (91cm) dia., length 21′ (6.4m) Longer with extensions
Maximum log weight capacity is 4,400 lbs

Production Rates
Up to 400 bd.ft./hr. Due to many variables, actual production figures may vary depending on the average size of logs and the size of material being cut. When
cutting logs around 30" diameter and 16′ long and making 1″ X 12″ production is around 2,000 BDFT a day and 3,000 BDFT when cutting 2″ X 12″.
Thin-Kerf Blades
.045″ (1.14mm) thick x 1.25″ (32mm) wide More and more people are starting to realize that thinner blades are better. Thin-Kerf technology is no longer the new industry buzz. It's turning into the industry standard, now that so many people have seen the benefits.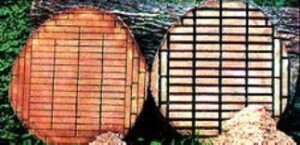 Using a thin-kerf blade increases board feet and reduces sawdust!
Just ask if you have any questions about our Wood-Mizer LT40HD Sawmill Specifications.
Hydraulic Toe Boards
compensate for taper in logs to maximize yield

Hydrolic Loader
Easily lift and load logs up to 4,400 lbs.

Hydraulic Log Turner
Effortlessly turn logs and cants

Hydraulic Clamp
Securely clamp logs and cants in place