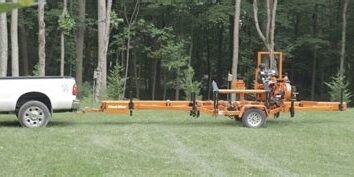 Hire an industry professional today.
Proud Member of the Wood-Mizer One Million Board Foot Club and Pro Sawyer Network
Mill Site accommodations
Engineered for performance with complete hydraulic log handling, the LT40 hydraulic portable sawmill provides speed and ease of operation for production. The LT40 hydraulic is completely portable and ready for a road trip to your project site. Six adjustable outriggers allow for quick set-up and simple leveling of the bed prior to sawing. The open side of the LT40 allows for minimal leveling during set-up, easy off-bearing and sawing of odd shaped logs.
The Wood-Mizer LT40HD is twenty six feet long and six and one half feet wide. It is preferable to have a fairly level area to turn around and back in if needed, but not necessary in all situations. Space to stack lumber and tailings close by makes for easy offloading and will help keep your price down.